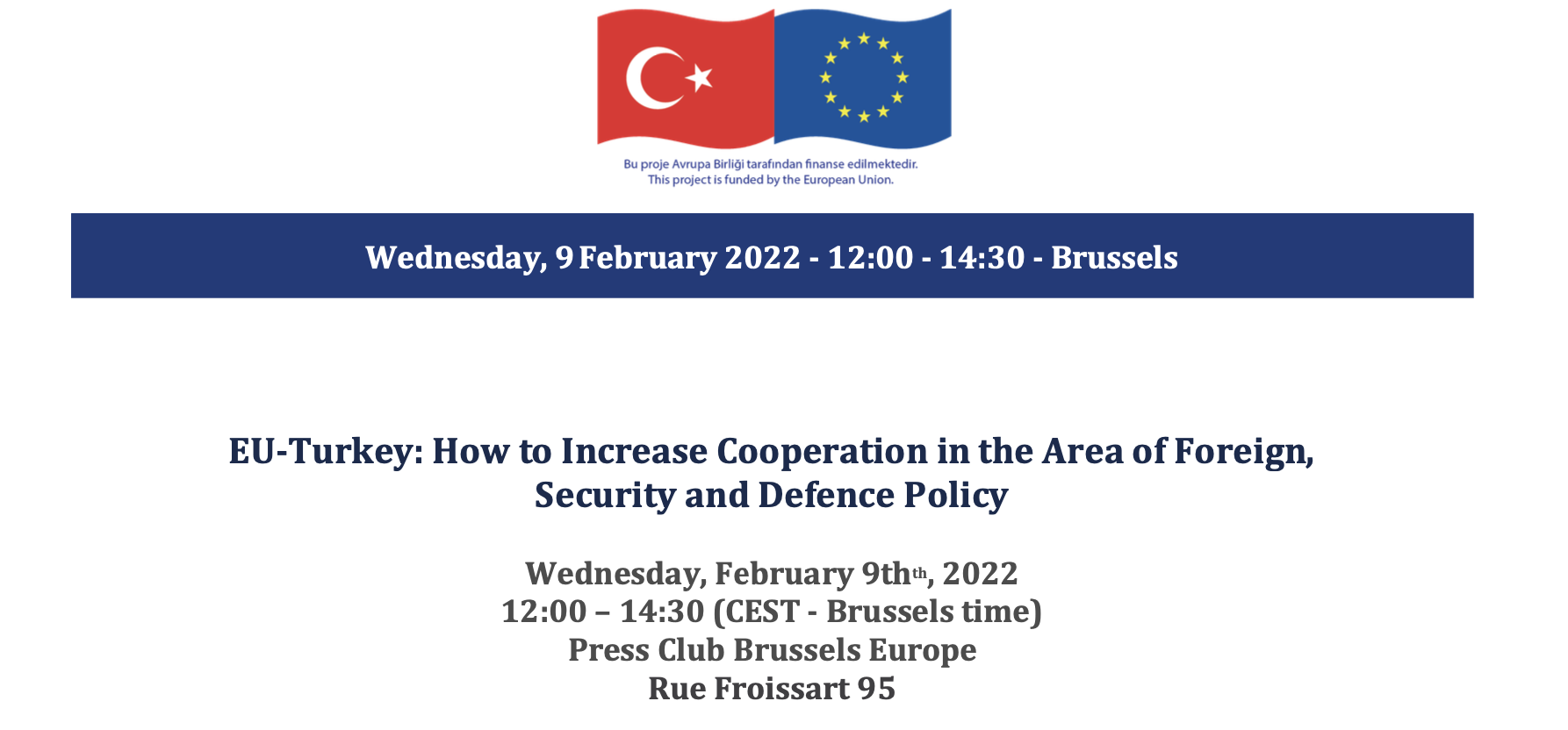 EU-Turkey: How to Increase Cooperation in the Area of Foreign, Security and Defence Policy 
09.02.2022 12:00 - 09.02.2022 14:30
Bruxelles
Postato da Amministrazione
Categorie: EU
Visite: 208
Wednesday, February 9thth, 2022
12:00 – 14:30 (CEST - Brussels time)
Press Club Brussels Europe
Rue Froissart 95
Turkey has been a staunch ally of the West in the area of foreign, security and defence policy, especially within the framework of NATO since 1952. While assuming a crucial responsibility on NATO's security architecture during the Cold War, Turkey contributed to a number of security operations, peacekeeping missions and efforts toward combatting piracy and terrorism in the post-Cold war era. In addition, Turkey is expected to make a substantial contribution to European energy security following the completion of the Southern Gas Corridor and other potential energy projects. These long-standing and strategic ties should also be translated into diplomatic relations between the EU and Turkey, especially following recent divergences with regard to Syria, Libya and the Eastern Mediterranean.
Dialogue and negotiation are key to ease tensions and increase convergence in the area of foreign, security and defence policy between the EU and Turkey and the civil society has a crucial role to play to boost cooperation instead of hostilities. Recent developments show that there is a growing need to develop cooperation mechanisms and to seek common ground in order to resolve existing problems and to tackle shared challenges, such as increasing migration flows. These common challenges can be more effectively addressed by achieving better alignment in the area of foreign, security and defence policy.
The Brussels-based Dialogue for Europe (DfE) in cooperation with the Ankara-based European Union and Global Research Organisation (ABKAD) cordially invite you to a lunch reception at 12.00-13.00 followed by a conference at the Press Club Brussels Europe at 13.00-14.30 to discuss ways of strengthening cooperation between the EU and Turkey in the area of foreign, security and defence policy.
DfE, in partnership with ABKAD, is currently implementing a project called "Strengthening Dialogue between the EU and Turkey in the Area of Migration and Security". The project is funded by the European Union under "Supporting Civil Society Dialogue Between EU and Turkey Grant Scheme (CSD VI/017)".
Moderator: Eli Hadzhieva, Director of Dialogue for Europe (DfE), Belgium
Opening Remarks: MEP Ryszard Czarnecki, Chair of the EU-Turkey Friendship Group in the European Parliament, Poland
Speakers of the conference include:
H.E. Ambassador (ret.) Selim Kuneralp, former Permanent Delegate of Turkey to the EU, Turkey
Dr. Koert Debeuf, Editor-in-Chief of EUobserver, Associate Researcher at the Vrije Universiteit Brussel (VUB) and Research Fellow at the Oxford University, Belgium
Prof. Dr. Haldun Yalçınkaya, Head of Department of Political Science and International Relations at the TOBB Economy and Technology University, Turkey
Amanda Paul, Senior Policy Analyst at the European Policy Centre (EPC), Belgium
Please register by sending an email to Questo indirizzo email è protetto dagli spambots. È necessario abilitare JavaScript per vederlo. including your name, working title, and organisation.
This invitation is personal to you or a registered representative designated by you from your organisation. Please note that due to COVID-19, we may check your ID and Covid Safe Ticket at the entry of the Press Club.