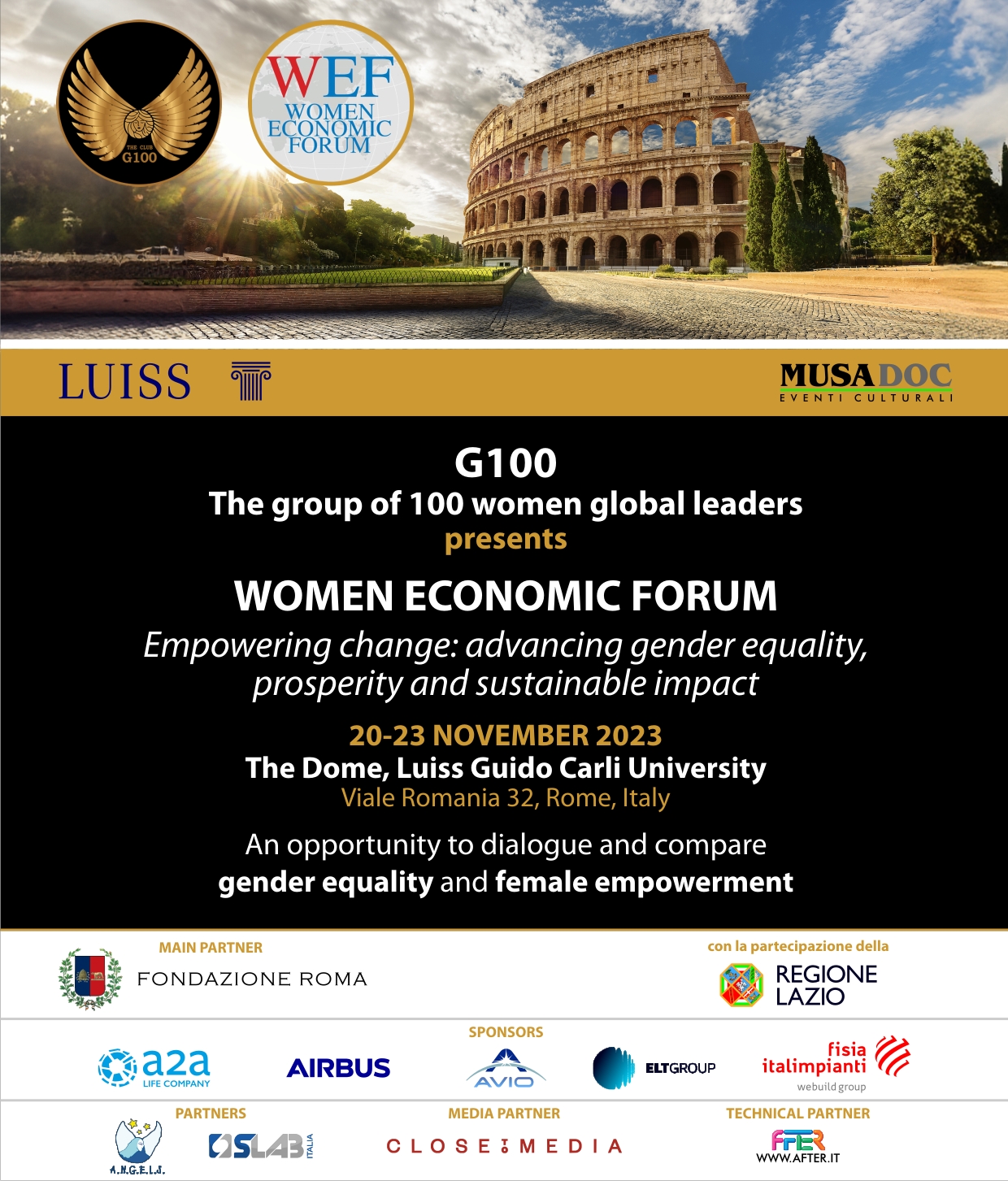 Women Economic Forum - Italy
21.11.2023 10:00 - 22.11.2023 17:00
LUISS
Postato da Amministrazione
Categorie: Economia
Visite: 346
Empowering Change: Advancing Gender Equality, Prosperity and Sustainable Impact.
Women Economic Forum (WEF) fosters conversations, community, connections and collaborations among women worldwide. The enabling ecosystem of exchange and sisterhood ignites and inspires greater enterprise and leadership, propelling women's economic empowerment and influence in ALL walks of life.
WEF Italy will be held in Rome from 20-23 November 2023 and at Luiss University from 21-22 November.
Tuesday, 21 November 2023
9:30 am Registration
10:00 am Welcome Remarks G100 WEF Italy
Luigi Gubitosi President Luiss University
Paola Severino President Luiss School of Law
Harbeen Arora Rai - WEF Founder
Laura Mattarella
Coordinator
Gaia Pianigiani Reporter, The New York Times
10:30 am First Session - Women, peace and security. The Inclusion of Women in Society, a Sense of Security and Access to Justice
President: Monica Lucarelli Councilor for Security Policies, Productive Activities and Equal Opportunities, Municipality of Rome
Chiara Corazza G20 EMPOWER Representative for France, G7 Gender Equality Advisory Council (GEAC) member, ESCP Affiliate Professor
Barbara De Donno Full Professor of Private Comparative Law, Luiss University
Margherita Repetto Senior Diversity, Equity and Inclusion (DEI) Business Partner, Amazon
Martina Rogato Founder Young Women Network and Co-Chair Women7 (G7)
Benedetta Paravia Vice President A.N.G.E.L.S. producer and philanthropist
Corporate Leader Meeting with Laura Menicucci Head of the Equal Opportunities Department Minister for the Family, birth rate and equal opportunities
12:00 pm Second Session - Breaking Boundaries: Fostering Health Equity and Innovating for a Sustainable Future
President: Viviana Kasam President, BrainCircle Italy
Antonio Parenti Head of the Representation of the European Commission to Italy
Maria Isabella Leone Associate Professor, Luiss University
Carla Vittoria Maira Executive Vice Chairwoman & Founder, Atena Foundation
Paola Testori Coggi Vice President LEADS – Women Leaders in Health
Laura Prota Business Program Coordinator, Professor of Economics, American University of Rome
1:30 pm Light Lunch
3:00 pm Third Session - Climate Justice in Action: Fostering Equality, Environmental and Water Stewardship and Ecological Resilience
President: Valeria Termini Full Professor of Political Economy, Roma Tre University; UN Member for Dialogue on Energy and Ecological Transition
Carlotta Ventura Communication, Sustainability and Regional Affairs, A2A
Paola Batistoni Head of Fusion Energy Development Division, ENEA
Laura Beranzoli Research Technology Director - National Institute of Geophysics and Volcanology
Sofia Hina Fernandes Da Silva Ranchordas Associate Professor of Regulatory Innovation, Luiss University
Paola Bertossi AD Fisia Italimpianti, WE BUILD
5:00 pm Return transfer to the hotels
8:30 pm Gala dinner at Circolo degli Scacchi "International Awards"
Wednesday, 22 November 2023
10:00 am Fourth Session - Innovation and Food System for a More Resilient Tomorrow
President: Sharon Cittone G100 Global Chair, Food Innovation; Founder and CEO, Edible Planet Ventures
Stefano Gatti Special Envoy for Food Security of the Ministry of Foreign Affairs and International Cooperation
Gladys H. Morales Global Head of Innovation, IFAD
Simona Romani Deputy Rector for Masters' Degrees Programs - Luiss University
Christina Senn-Jakobsen Managing Director at Swiss Food & Nutrition Valley
Raffaele Maiorano Entrepreneur in Agriculture and Sustainable Development, Professor of Agribusiness Management
Maximo Torero Chief Economist, FAO – Food and Agriculture Organization in Rome
11:30 am Fifth Session, Part A - Space as an Instrument for Inspiration and Motivation
President: Elena Grifoni Winters Advisor to the Prime Minister for Aerospace Program
Milena Lerario AD, Airbus Italia
Annamaria Monterisi Director of Institutional Communication ASI
Raffaella Luglini Chief Sustainability Officer, Leonardo
Simonetta Cheli Director of Earth Observation Programmes and Head of ESRIN-ESA
Giulio Ranzo AD, Avio
Anthea Comellini GNC Engineer Thales Alenia Space and Member of Astronaut Reserve, ESA
1:00 pm Light Lunch
2:30 pm Fifth Session, Part B - Cybersecurity as an Enabler: Advancing Equality, AI Ethics, and Sustainable Practices
Introduction: Paola Severino President, Luiss School of Law
Nunzia Ciardi Deputy Director General ACN National Cybersecurity Agency
Domitilla Benigni CEO & COO, Elettronica S.p.A.; President, Women4cyber Italy
Alvise Biffi CEO, Secure Network BVTECH
Barbara Carfagna Journalist and RAI Tv Presenter
Alessandra Guidi Deputy Director General, DIS Information Security Department
4:00 pm Sixth Session - Inclusion, Education, Motivation, and Mentoring Mechanism for Promoting Enterprise, Employment and Developing Leadership Overall
President: Ersilia Vaudo Chief Diversity Officer, ESA
Lidia Armelao Director of Department of Chemical Sciences and Technologies of Materials, CNR
Irene Caratelli Director of the International Relations and Global Politics Program, American University of Rome
Emiliana De Blasio Advisor of the Rector for Diversity and Inclusion, Luiss University
Silvia Gerboni Marketing Communications Manager, Italia Education First - EF
Fabi Saad Niemeyer Founder Mulheres Positivas, Women Plus and Women Choice AI Councilor, Regione Lazione