Infected Globalisation: in Search of a New Normal
Salva sul calendario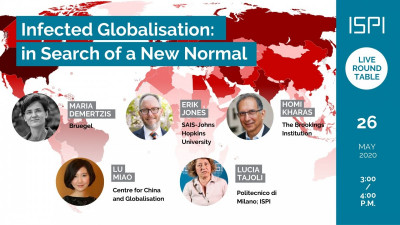 Da 26.05.2020 15:00 fino a 26.05.2020 17:00
Inserito da Amministrazione
Covid-19 has infected globalisation to the point that the return to business as usual may not be an option. Skyrocketing debt across the world, inward-looking attitudes of political leaders, an increasing confrontation between Washington and Beijing and the standstill of international organisations may lead to uncharted waters. How to tackle rising debts? Which effects on global governance, from G20 to IMF and WTO? Which impact on international trade? What is the future of development aid and worldwide middle-classes?
ISPI is hosting this event online. You will be able to access the livestream on this page, as well as on Facebook and Youtube, starting from May 26 at 3.00 p.m. CEST.
Take part in the debate and submit your questions for panelists during the event by emailing segreteria.eventi@ispionline.it or comment on Facebook and Youtube.
Segui i canali tematici su Telegram: