China & the US: from Trade War to "Blame Game"
Salva sul calendario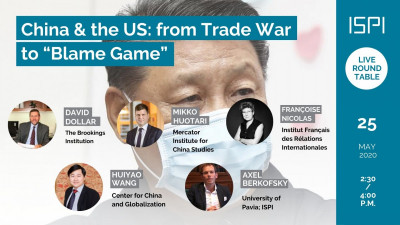 Da 25.05.2020 14:30 fino a 25.05.2020 16:00
Inserito da Amministrazione
The coronavirus pandemic has overturned life as we know it, and the global economy is bound to be one of the major victims. After the 2008-09 global financial crisis, the extraordinary measures put forward by China and the United States had contributed to lifting the global economy. Nowadays, the animosity between the two countries and President Donald Trump's "protectionist tendencies" run the risk to jeopardize the success of any strategy implemented to dampen the effects of the post-coronavirus crisis. What can we expect from China-US relations after the coronavirus crisis? Which scenarios for the upcoming US presidential elections? Will coronavirus prove to be an "electoral game changer"?
ISPI is hosting this event online. You will be able to access the livestream on this page, as well as on Facebook and Youtube, starting from May 25 at 14:30 CEST.
During the event, take part in the debate and submit your questions for panelists by emailing segreteria.eventi@ispionline.it or comment on Facebook.
Segui i canali tematici su Telegram: